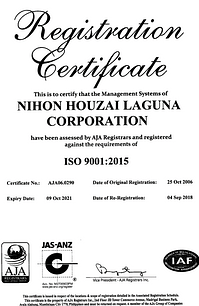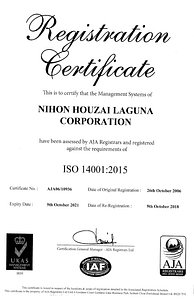 On February 1973, NIHON HOUZAI was founded with capital of 3 million Yen at 3-11-2 Nishinakanobu Shinagawa-ku, and established Local Company in Manila Philippines known as NIHON HOUZAI PHILS. We obtained our own PEZA registration as NIHON HOUZAI LAGUNA COPORATION last June 2004 which is located at Laguna Technopark.
We acquired BS EN ISO 14001:2015 under certificate No. AJA06/10936 and acquired ISO 9001:2015 under certificate no. AJA06.0290 on October 2018.
Up to present, NIHON HOUZAI LAGUNA CORPORATION continues affiliation with other supplier to update itself of more recent developments in general packaging technology, foundation and standards.